Best Ugly Packers Sweaters
Do we have any people from Green Bay here? If so, are you by any chance a fan of the Green Bay Packers? Yes? Of course you are. Why else would you be looking at an article which shows you so many ugly sweaters for the holiday season, all packers themed? This winter season, support your favorite football team by sporting some iconic ugly sweaters; it's nice to step out of the mainstream sometimes. We won't keep you hanging for long, read on ahead!
Patches All the Way
This Block is Busy
V-neck
Lights On!
Sweater Vest
Sweater Jacket
3D Ugly Sweater
Buyer's Guide:
This article has a collection of some of the coolest ugly sweaters available in the market for Packers fans. Whether you are a fan yourself or you happen to know one, there is something for all of you here!
What to know before buying:
The classification of clothes has been based upon the generally accepted norms of fashion in society throughout this article but that does not mean that we discourage anyone from expressing themselves in whatever form they deem fit; feel free to buy anything despite the categories.
Ugly Packers Sweaters for Men:
Alright gents, it is officially time to spend those paychecks on some cool sweaters for the winters. It will be chilly soon.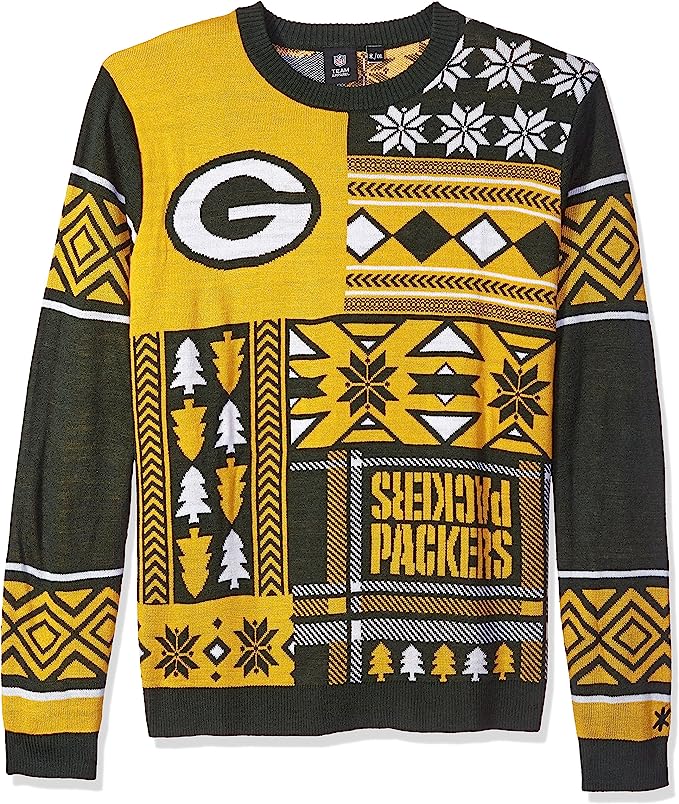 You just cannot go wrong with the classic patch pattern when it comes to sweaters can you? This is surely a beauty.
Christmas just isn't Christmas if you don't see a bunch of busy block sweaters around. Do not become the reason for their extinction.
Ugly Packers Sweaters for Women:
Ladies, we know you are just as big of fans of the Packers as any man. Show your support and get yourselves a nice sweater!
V-necks are always in fashion are they not? But don't you worry; the sweater is still pretty ugly despite having a fashionable neck style.
What even is the point of supporting your team by wearing relevant merch if it isn't over the top? Light up your sweater on every score.
Ugly Packers Sweaters- Different Styles:
Plain sweaters are cool but that does not stop you from trying out different styles.
Sweater vests have always been put down as nerdy and uncool but if you think about it, they are actually very useful; sometimes it isn't cold enough to wear a normal full sweater, but neither is it warm enough to go without one. End the prejudice, buy the vest.
Sweater jackets on the other hand have always been "in" and rightfully so. They are very cool, and they keep you warm.
Bonus Edition:
The Green Bay Packers deserve a bonus entry of their own, it is the least we could do.
We have the ugliest Packers sweater right here; not only is it horrendous, it also has 3D components. You just might receive a present in one of the stockings!
Here we are, at the end of the article. Hopefully you have found the perfect sweater by now. Happy holidays to you!!