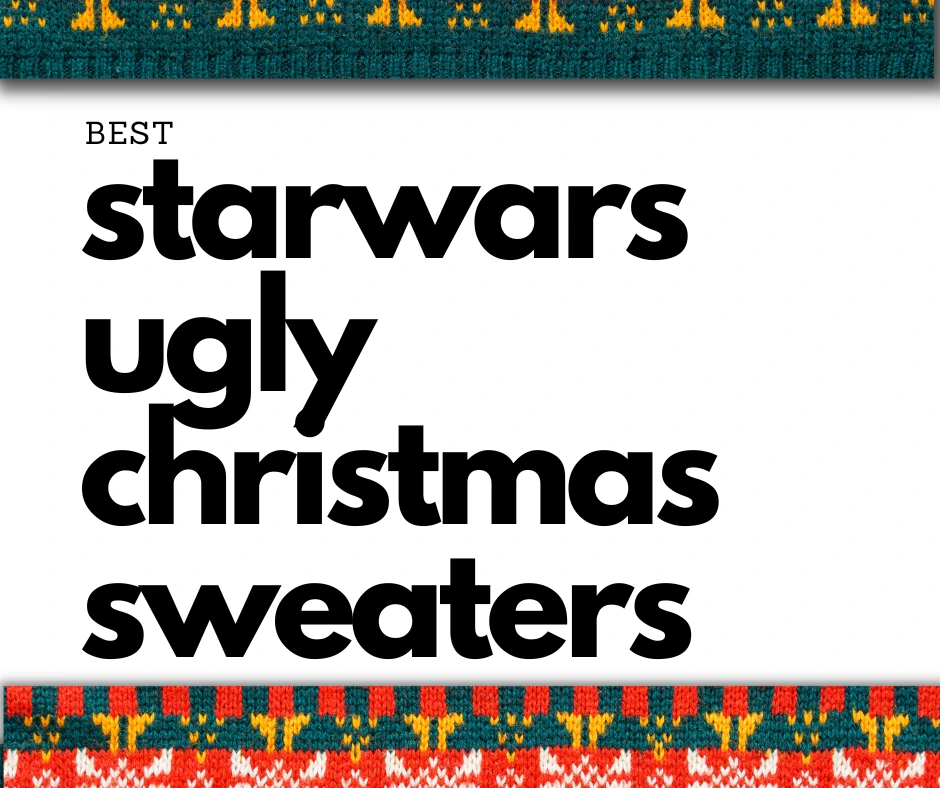 10 Best Star Wars Themed Ugly Sweaters
You hate it. You run away from it. Year after year it finds its way to you, and when you rid yourself of it another takes its place. It's your most dreaded possession and yet, it has now become a part of you. Yes, we're talking about…UGLY SWEATERS! Okay putting the melodrama aside, as much as it is a crime against fashion, you just have to have them especially in holiday season. At this point, what even is the joy of Christmas without an ugly sweater to don? So the next time your grandma insists that you arrive at the Christmas family dinner wearing the sweater she gifted, we have some ideas you can recommend to her. Oh and if you're a Star Wars person, well then we're just going to leave it here with the inevitable cliché; may the sweaters be with you.
Buyer's Guide
We're positive the items on this list will fill your quench for ugly sweaters: Star Wars Edition. But just in case you're in a hurry, know that we have put together this list for you that includes multiple options for men and women including a unisex category, just so you dont have to be left out of the fun.
Here's what you need to consider before buying
We understand that many of you choose to not to conform to any specific gender which is why we made a unisex category, however please know that it's not our intention to categorize any of you; feel free to pick any sweater out of this list should you like something.
Best Star Wars Ugly Sweaters for Men:
Are you man enough to try out one of these stunners?
Simple, to the point, explains the nerdiness, almost attractive but still ugly. Here is the sweater you want to wear if you want to take a new love interest to the family dinner without weirding them out too much all the while keeping up with the family traditions!
If you want to assert dominance anywhere you go, this sweater is all you need. Styled with the mighty walkers this one also features guest appearances from Yoda, Darth Vader and R2D2.
Enough said, right? A sweater to inform everyone within a mile radius of you during the holidays that you are Star wars.
Best Star Wars Ugly Sweaters for Women
You thought we'd forget about you ladies? Nah.
Bring it all with the fandom and the weather with this sexy (not really) thing. It has R2D2 on it with antlers. WITH ANTLERS!
It takes a strong woman to get Mr. Vader to sport a candy cane bow tie. If you got what it takes, buy this now!
Everyone loves R2D2. You will automatically be the coolest chick in the room just by wearing this sweater, despite the ugliness.
Best Star Wars Ugly Sweaters-The Unisex Edition
You know what's better than wearing an ugly sweater? Wearing an ugly sweater with your partner!
Storm is dressed with Storm Troopers to the party. You'll win a couple's costume night with it even if no competition is taking place.
You should just buy this one for the amazing pun alone. Imagine Darth Vader actually shows up as Santa at your party!
This holiday season; take your bae AND Chewbacca with you to the Christmas party. He took so long to get all cute with Christmas lights!
We had to include this gem here. If you claim to be a daring person, prove it by wearing this throughout the entire event. You truly will have to come to the dark side for this.
Buy an ugly Christmas sweater, you must. This brings us to an end to our hunt for the best Star Wars ugly sweaters so you can get your hands on one. It's always good to stock up before the event, you know just in case someone tries to steal your thunder. We don't know about the force, but may the warmth be with you, always!