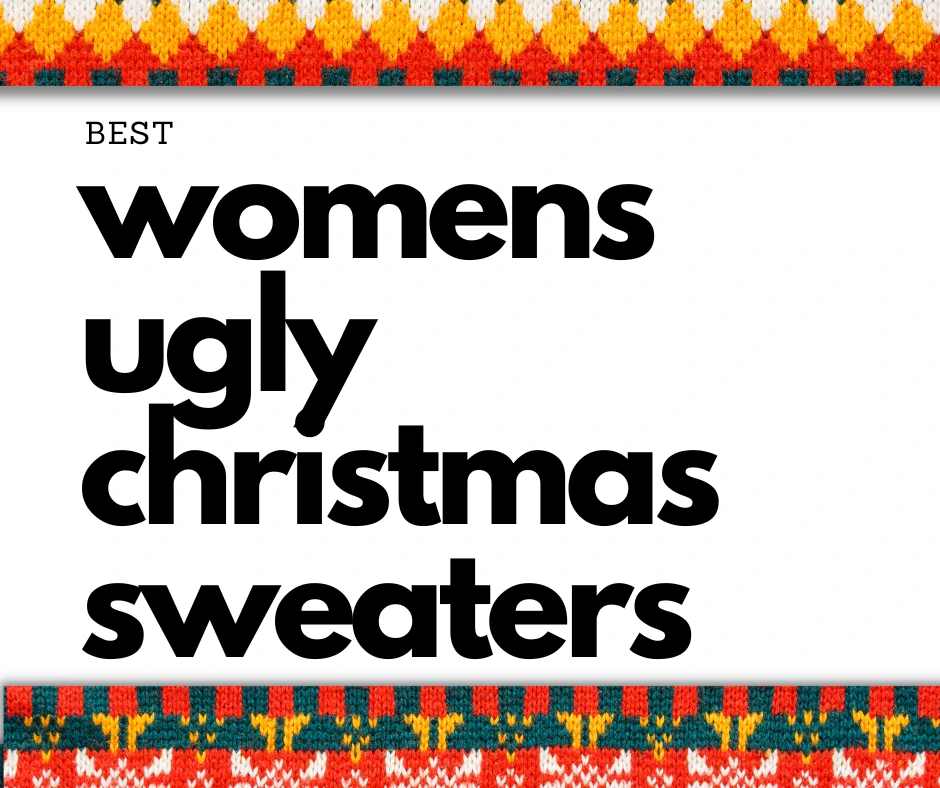 12 Funniest Women's Ugly Christmas Sweaters
| | |
| --- | --- |
| Women's Gaudy Garland Christmas Cardigan | SHOP NOW |
| Women's Christmas Reindeer Sweater | SHOP NOW |
| Women's LED Light Up Reindeer Ugly Christmas Sweater | SHOP NOW |
| Tipsy Elves Women's Winter Whale Tail Sweater | SHOP NOW |
| Idgreatim Ugly Christmas Crewneck Sweatshirt | SHOP NOW |
| Tipsy Elves Funny Cat Ugly Christmas Sweater | SHOP NOW |
| Wine Holder Stocking Ugly Women Christmas Sweater | SHOP NOW |
| Women's Drinking Game Ugly Sweater | SHOP NOW |
| Gift Bow Ugly Women Christmas Sweater | SHOP NOW |
| Women's Santa Unicorn Christmas Sweater | SHOP NOW |
| Party Santa Ugly Women Christmas Sweater | SHOP NOW |
| Tacky Tinsel Ugly Christmas Sweater | SHOP NOW |
Everyone loves Christmas, it's the only time of the year we get to do special things like put up christmas trees, hang lights and other fun decor, drink eggnog, share presents, and of course, bring out our most show stopping ugly sweaters.
You read that right! Ugly clothing is never in fashion for a woman, but What's a Christmas photo without an ugly female Christmas sweater? Boring! That's what it is.
Christmas is the only time you get to wear sweaters with pom-poms popping out of them, Rudolph's red nose dangling on the sides, the grinch with a wide grin, and elves with pointy ears.
The sweaters may be called ugly, but that's where the beauty of a Christmas photo lies.
Now you certainly don't want a boring Christmas photo, so you need an ugly Christmas sweater.
I bet you're thinking, "where can i buy the best ugly women christmas sweater?"
Whether you want to splurge or go for cheap ugly Christmas sweaters for women, we've rounded up some of the best women's ugly Christmas sweaters.
---
Women's Gaudy Garland Christmas Cardigan
If the theme card says "Christmas Tree," then this is the go-to sweater for you. You are wrapped in garland, and you have bells jingling all over you. What else screams Christmas yet ugly at the same time?
---
Women's Christmas Reindeer Sweater
Pom-poms and Reindeers is an ugly Christmas sweater classic. You could never go wrong with this.
---
Women's LED Light Up Reindeer Ugly Christmas Sweater
Rudolph's red nose popping out on this sweater isn't the best part of it. With the led lights dangling on the sweater, you are certainly going to brighten the Christmas spirit.
---
Tipsy Elves Women's Winter Whale Tail Sweater
Judging from Santa's thong, it's probably not so cold in the North Pole. Good thing we can't see his butt crack, but you will surely crack some ribs in this funny Santa sweater.
---
Idgreatim Ugly Christmas Crewneck Sweatshirt
Ho ho ho, you might just ruin Christmas with this one. No one would want Santa's gifts sliding down their chimney after seeing you on this sweater. It's perfect!
---
Tipsy Elves Funny Cat Ugly Christmas Sweater for Women and Crazy Cat Ladies
For the crazy cat ladies in the house, this one's for you! The grumpy cat wrapped in the wreath would love to keep you warm and wish you a meowy Christmas. Go for it!
---
Wine Holder Stocking Ugly Women Christmas Sweater
Ho ho ho and a bottle of rum! This sweater may not have ornaments popping out of it, but that stocking is the perfect wine cellar. Plus, you can get creative and stuff anything in the stocking.
---
Women's Drinking Game Ugly Sweater
Not only is this perfect for a family Christmas photo, but you could make your office Christmas Party fun with this drinking game ugly Christmas sweater.
---
Gift Bow Ugly Women Christmas Sweater
You think you are the perfect gift for your partner? Wrap yourself with this Gift Bow ugly women Christmas sweater and make your presence a present.
---
Women's Santa Unicorn Christmas Sweater
I don't think Rudolph made it to work today, but Santa seems to be having more fun riding this unicorn and through space! It's perfect to get your toddlers jealous of your ugly sweater.
---
Party Santa Ugly Women Christmas Sweater
Who says you need champagne bottles to get things popping? A carton of milk and some of Mrs Claus's cookies will get you in the Christmas spirit. It worked for Santa.
Is there a certain ugly Christmas Sweater you're looking for that isn't on this list?
It's probably our favorite ugly sweater so here you go….
---
Tacky Tinsel Ugly Christmas Sweater
Jingle all the way all Christmas long wrapped in Tinsel and bells. You'll certainly win the ugly Christmas sweater contest in this beauty.